This is a little gem of Northern New Mexico, an immaculate golden slab of granite tucked into the mountains north of Taos. I'm psyched to have a new multipitch partner in the neighborhood: Doug, who just moved here from Fort Collins.
The first pitch threw me for a loop. I had forgotten my tennis shoes at home, so I did the approach hike in my Chacos. Then I noticed a small hole in the toes of my old-faithful Mythos. Then I proceeded to get lost, find my way, quiver before slab moves leading to unknown peril, slightly slip and completely hemorrhage the hole in my shoe, then finally make a monumental effort to get to the belay with major ropedrag at the end of this nearly-50 m pitch. Just to be clear, I did not place much gear, but the rope got caught around a horn at the top of a crack in the middle of the pitch. However you swing it, an epic start.
Doug leads the second pitch. A little step of faith goes between two crack systems.
By its description, the next pitch also had the makings of an epic.
Looking at Doug and toward the southern end of the San Luis Valley after making the first cruxy slab moves directly off the belay.
Another set of more difficult slab moves followed after a brief respite in a thin crack. The beatings will continue. And who needs bolts for these moves? Doug follows the pitch.
This corner was mostly a squeam seam with a few pockets for gear.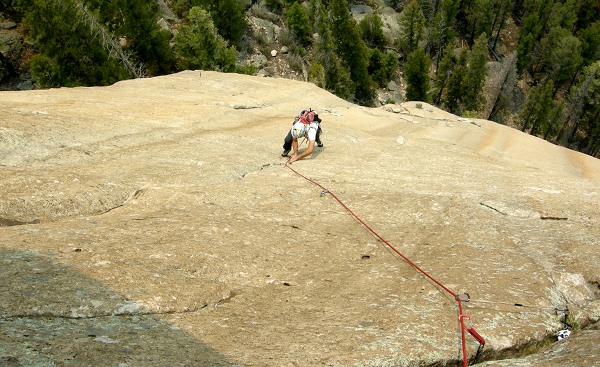 The fourth pitch has a very fun roof.
Then it's chickenhead hero for the home stretch. A welcome respite to end a slightly heady route. The belays are all 1/4" bolts.
Overall, a stellar route and I can't wait to climb more on the Dome. There's an alternative 11+ roof on this route and several other routes for future beatings. Thanks for an awesome day, Doug!